Produsenter
FACEBOOK FOR KS
Klarna
KÅRET SOM FAVORITTBUTIKK I 2014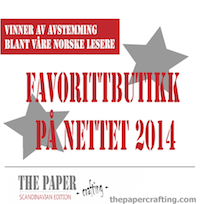 TUSEN TAKK TIL ALLE SOM 
STEMTE PÅ OSS :-)
Nyhetsbrev
Twitter
3L - DOUBLE-SIDED ADHESIVE 1679 - SHEETS 12x12 - PR STK

Lag dine egene klistremerker eller bruk dem sammen med glitter, flocking, metall eller mikroperler. Måler ca 30,2x30,2cm.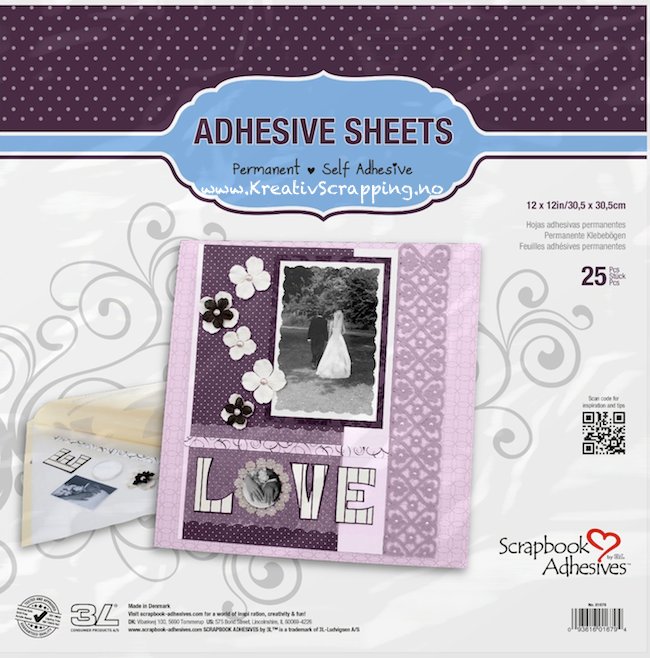 3L CORP-Adhesive Transfer Sheets: Permanent.
12x12in adhesive transfer sheets allow die cuts, vellum, fabric, ribbon and more to be made into stickers. Perfect edge to edge acid free and archival safe coverage makes a 100% even transfer. No expensive machine required. Great for coordinating papers and embellishments for scrapbook layouts.

Use adhesive sheets to make your own stickers or to add extra flair to your designs with edge to edge coverage of glitter, flocking, foil, microbeads or anything! Perfect to use on acrylic too - keeps it clear.
Archival safe

– No reaction with typical craft materials like photos and paper
Acid free – No weakening of paper or top-coating of photos
Acrylic based adhesives – No bleeding through the paper
Lignin free – No yellowing of paper
PAT – Photographic Activity Test, tested and approved


Her kommer en flott bloggpost laget av Tiffany for Scrapbook Adhesives by 3L.
It's a SUPER fun mixed-media card for ya!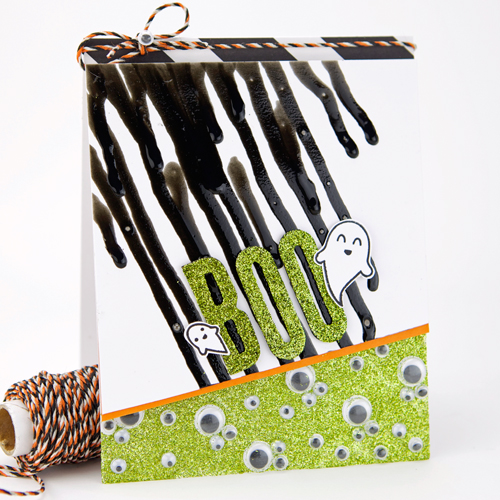 I absolutely love the versatility and strength of the Adhesive Sheets, which is how I created my google eye glitter panel!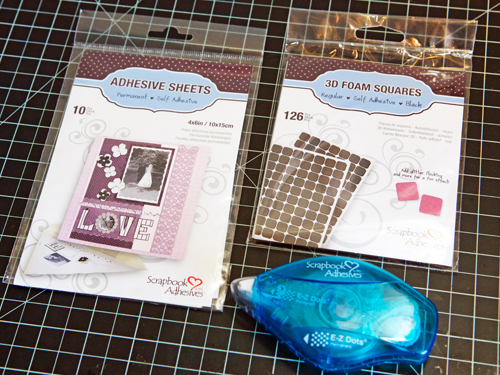 For this tutorial, I'll be using the Adhesive Sheets – 4″ x 6″, 3D Foam Squares Black – Mix, and the E-Z Dots® Permanent – Refillable.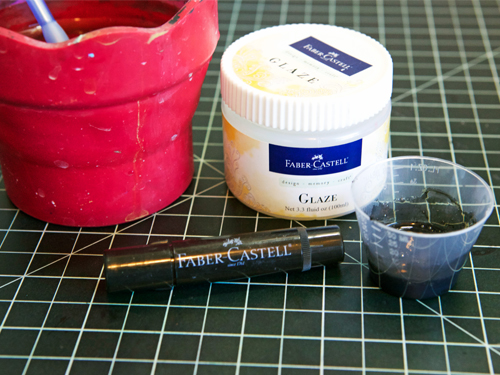 To create those cool mixed-media drips, just combine about 1/8″ of Licorice Gelatos, about a tablespoon of Glaze, and a drop or two of water until it's got maple syrup-like consistency.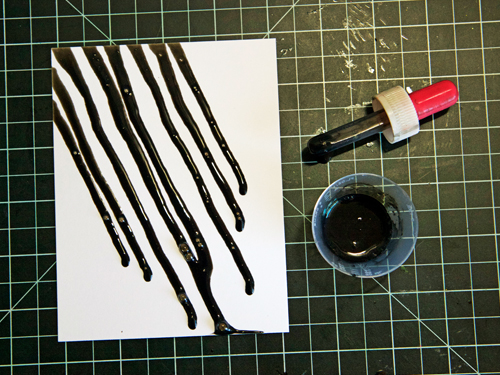 Then, using a dropper tool or a round paint brush, apply the drips starting at one corner of an A2 card front. I like to hold the paper vertically to allow the drips to naturally fall. Set aside to dry.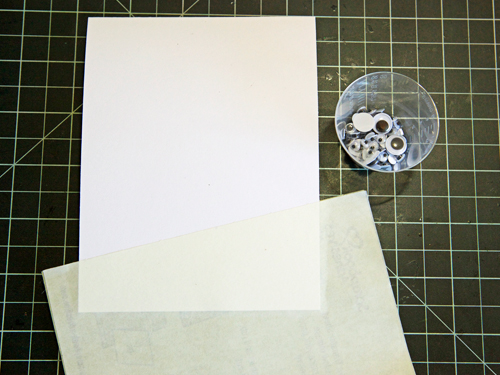 While the drips are drying, take an A2 card base and apply the Adhesive Sheet to the bottom 1/3 at a diagonal. I like to burnish both sides to ensure full coverage. Add the Google Eyes first.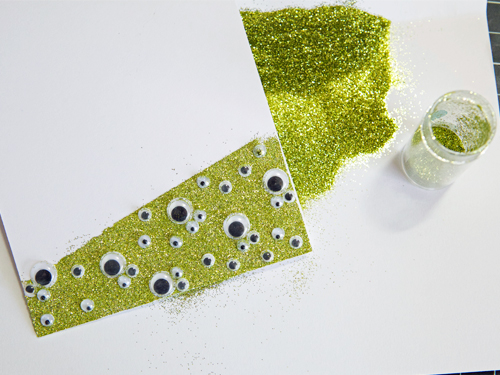 Once you've added the Google Eyes, cover the rest with glitter. Tap excess.
If you have an embossing buddy, use that to wipe the glitter off of the google eyes!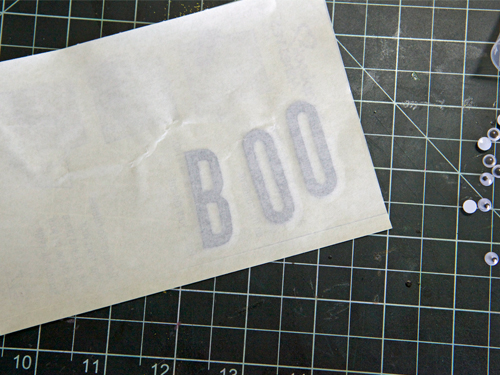 Repeat the process with "BOO" die-cut letters.
I used the Sizzix Block Talk Uppercase Die by Tim Holtz to create my letters.
Add glitter and tap excess.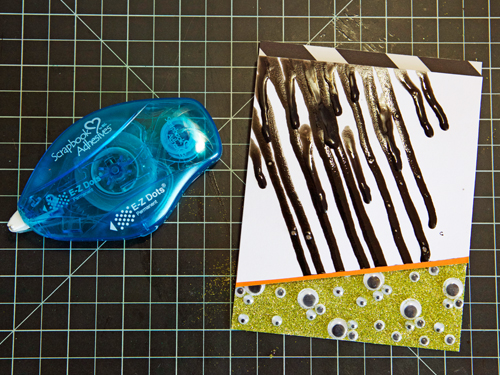 Once the drips are dry, adhere everything to the A2 card base. I added an orange border at the diagonal and some patterned paper at the top.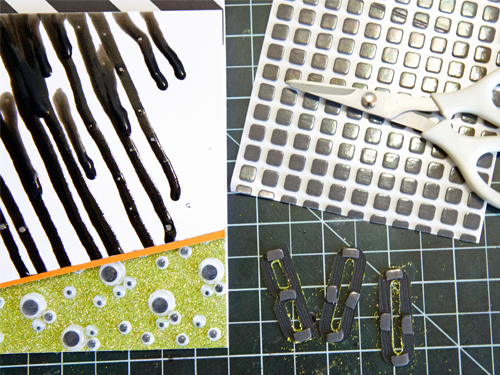 Cut some small black 3D foam squares in half and apply to the "BOO" letters. Add to card.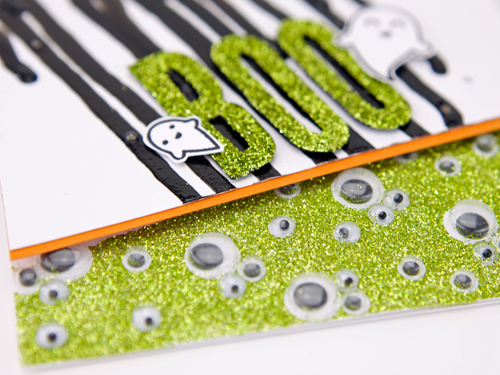 Scrapbook Adhesives by 3L® Products Used:
Adhesive Sheets – 4″ x 6″, klikk her
3D Foam Squares Black – Mix, klikk her
E-Z Dots® Permanent – Refillable, klikk her
Other Products Used:
Lawn Fawn - Happy Haunting stamp set, klikk her
Lawn Fawn - Spooky single cord, klikk her
Sizzix (Blog Talk Uppercase Die by Tim Holtz), klikk her
Faber-Castell Design Memory Craft - Licorice Gelato, klikk her
Faber-Castell Design Memory Craft - Gelatos Tool Set, klikk her
Faber-Castell Design Memory Craft - Glaze, klikk her
Faber-Castell Design Memory Craft - Collapsible Cup, klikk her
Glitter (MS golden beryl), Vi anbefaler, klikk her
Google eyes, klikk her

From strong permanent adhesives for archival use, 3D Foam for dimension, and repositionable adhesive for multiple uses, we cover it all! So much more than Scrapbooking!
Erica Houghton tutorials;
Hi! It's Erica and today I'm sharing two cards I created using Adhesive Sheets, Crafty Foam Tape and Crafty Power Tape, as well as a step-by-step tutorial showing you how I altered the berry spray on my cards!
Step 1: Place pattern paper on Adhesive Sheet; insert diecut into machine
Step 2: Peel off backside of Adhesive Sheet; adhere diecut to card base
Step 3: Adhere second layer using Crafty Foam Tape
Step 4: Adhere lace with Crafty Power Tape
Step 5: Next, start with a berry spray (berry spray does not have to match)
Step 6: Paint berry spray with gesso (gesso acts as a primer; darker colored berries may require two coats of gesso)
Step 7: Paint berry spray (select color to match paper collection
Step 8: Add microspheres using glossy accents (apply glossy accents – medium to thick coverage – over 1/2 of each berry; sprinkle microspheres over glossy accents and let dry for several hours)
Step 9: Adhere berry spray, flowers, adornments and sentiments to finish cards
Adhesives
Adhesive Sheets – 4×6,

Crafty Foam Tape – White,

Crafty Power Tape – 81′
Embellishments
Stickers, Magnolia, Petaloo & Prima Marketing – flowers, Tim Holtz Ideaology Baubles, ribbon, metal chain, jump rings, tulle
Products
Ranger Ink – Tim Holtz – distress ink, Ranger Ink – glossy accents, Tsukineko, Versafine – ink
Taylored Expressions – quatrefoil diecut, Gesso, paint, glass microspheres
Thanks for joining me today!
Kommentarer

3L - SCRAPBOOK ADHESIVES
| | | | |
| --- | --- | --- | --- |
| | | 69,- | |
77,-

69,-




77,-

69,-




77,-

69,-




77,-

69,-




77,-

69,-




15,-

9,-




| | | | |
| --- | --- | --- | --- |
| | | 34,- | |
| | | | |
| --- | --- | --- | --- |
| | | 34,- | |
24,-

14,-




159,-

95,-