Produsenter
Nye produkter
FACEBOOK FOR KS
Klarna
KÅRET SOM FAVORITTBUTIKK I 2014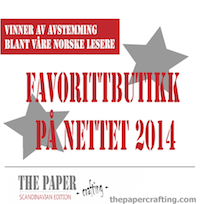 TUSEN TAKK TIL ALLE SOM 
STEMTE PÅ OSS :-)
Nyhetsbrev
Takk! Du vil motta en e-post så snart produktet er på lager!
En ukjent feil har oppstått. Klikk her for å prøve igjen!
CHEERY LYNN DESIGNS: DIMENSIONAL BUTTONS - D102
Tape the button(s) to your craft paper and emboss using our rubber pads. This step creates the relief design. Next, run through your machine as a regular die cut. You may also ink the metal piece for coloration prior to embossing. Wash the metal with mild soap and water. After the die cut, remove your paper cut and pop out the tiny holes for mounting with brads, Crafters string or glue. Enjoy our selection of many designs!
4" x 4" (100mm x 100mm) overall. Set of 14.
Dimensional buttons create realistic buttons that won't tear your card when being handled or mailed. This process was first developed by Cheery Lynn Designs as a die cut and emboss crafting die. The button designs may be removed from the sheet and stored on the supplied magnet. For safe handling, be sure to remove any burrs from that hold the die into the sheet with the small end of your scissors.
Kommentarer
CHEERY LYNN DESIGNS
159,-

99,-




159,-

99,-