Produsenter
Nye produkter
FACEBOOK FOR KS
Klarna
KÅRET SOM FAVORITTBUTIKK I 2014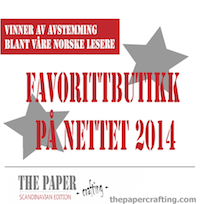 TUSEN TAKK TIL ALLE SOM 
STEMTE PÅ OSS :-)
Nyhetsbrev

Takk! Du vil motta en e-post så snart produktet er på lager!
En ukjent feil har oppstått. Klikk her for å prøve igjen!
COPIC - GLITTER PEN ATYOUSPICA - TRANSPARENT CLEAR

Copic Glitter Gel Pens contain water based Pigment Ink
Acid-Free, Non-Toxic and Archival
Micro Glass Flakes for Maximum Sparkle
Lasts twice as long as other similar pens.
Perfect for Card Making, Scrapbooks and Doodling
Transparent Ink, great for Colour and Sparkly Overlays
Available in 12 Colours - Black, Silver, Gold, Lemon, Orange, Pink, Red, Lavender, Sky Blue, Turquoise, Olive, Melon
Markers should be stored horizontally for maximum life.
Copic Glitter Gel Pens are fun to use and add a bit of sparkle to any design
Copic Spica Glitter - transparent colours and will write for over 300 metres (which is about twice as much as most other writing pens).
The ink is pigment based, non toxic and acid free and is therefore archival.
The pen has a "no clog" nib making it perfect for adding a bit of sparkle to your cards, scrapbooks and other craft projects.Transparent ink which is great for Colour and Bling overlays
Description:
Glitter Set 12B, Water-Based, Pigment Markers

Very Sparkly, Non-Toxic, Water-Based Pigment Markers

12 Vibrant Colors with Matching Caps

Micro Glass Flakes for Maximum Sparkle

Dries Waterproof and Acid-Free

Unique, No Drip, No-Clog Tip Draws Smoothly

Adds a Fine Sparkle to Your Crafts, Without the Mess of Glitter and Glue

Writes More Than 360 yards- twice the length of other writing pens

Packaged in a Reusable, Clear Vinyl Case

Smooth, Professional Glittery Effect, No Clumping

Transparent Ink, Great for Overlays

Dries Quickly, Smear Resistant

Perfect for Diaries, Scrapbooks, Cards & More
Kommentarer
SPICA
Best.-Nr.
BESKRIVELSE
Enhetspris


2400001

| | |
| --- | --- |
| Glitter Pen - atyouSpica - lavender | |

2400002

| | |
| --- | --- |
| Glitter Pen - atyouSpica - pink | |

2400003

| | |
| --- | --- |
| Glitter Pen - atyouSpica - red | |

2400004

| | |
| --- | --- |
| Glitter Pen - atyouSpica - orange | |

2400005

| | |
| --- | --- |
| Glitter Pen - atyouSpica - lemon | |

2400006

| | |
| --- | --- |
| Glitter Pen - atyouSpica - melon | |

2400007

| | |
| --- | --- |
| Glitter Pen - atyouSpica - olive | |

2400008

| | |
| --- | --- |
| Glitter Pen - atyouSpica - turquoise | |

2400009

| | |
| --- | --- |
| Glitter Pen - atyouSpica - sky blue | |

2400010

| | |
| --- | --- |
| Glitter Pen - atyouSpica - black | |

2400011

| | |
| --- | --- |
| Glitter Pen - atyouSpica - gold | |

2400012

| | |
| --- | --- |
| Glitter Pen - atyouSpica - silver | |

2400013

| | |
| --- | --- |
| Glitter Pen - atyouSpica - lilac | |

2400014

| | |
| --- | --- |
| Glitter Pen - atyouSpica - blossom | |

2400015

| | |
| --- | --- |
| Glitter Pen - atyouSpica - peach | |

2400016

| | |
| --- | --- |
| Glitter Pen - atyouSpica - buttermilk | |

2400017

| | |
| --- | --- |
| Glitter Pen - atyouSpica - mint | |

2400018

| | |
| --- | --- |
| Glitter Pen - atyouSpica - babyblue | |

2400019

| | |
| --- | --- |
| Glitter Pen - atyouSpica - sand | |

2400020

| | |
| --- | --- |
| Glitter Pen - atyouSpica - chocolate | |

2400021

| | |
| --- | --- |
| Glitter Pen - atyouSpica - lipstick | |

2400022

| | |
| --- | --- |
| Glitter Pen - atyouSpica - garnet | |

2400023

| | |
| --- | --- |
| Glitter Pen - atyouSpica - pitch black | |

2400000

| | |
| --- | --- |
| Glitter Pen - atyouSpica - transparent | |