Produsenter
FACEBOOK FOR KS
Klarna
KÅRET SOM FAVORITTBUTIKK I 2014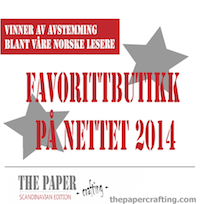 TUSEN TAKK TIL ALLE SOM 
STEMTE PÅ OSS :-)
Nyhetsbrev
Twitter
GRAPHIC45 - BOTANICAL TEA - 4500894 - STICKERS ALPHABET 12x12

Klistremerker eller STICKERS ark i serien "BOTANICAL TEA" fra GRAPHIC 45.
Arket er syrefri og måler ca 30.5 cm x 30.5cm.
GRAPHIC 45 - BBOTANICAL TEA : Cardstock Stickers - ALPHABET
Sticker designs are phrases and letters. Acid and lignin free.
This package contains one 12x12 inch sheet of stickers. Design: Alphabet.

Kommentarer
| | | | |
| --- | --- | --- | --- |
| | | 49,- | |
| | | | |
| --- | --- | --- | --- |
| | | 69,- | |
| | | | |
| --- | --- | --- | --- |
| | | 59,- | |
| | | | |
| --- | --- | --- | --- |
| | | 69,- | |
| | | | |
| --- | --- | --- | --- |
| | | 35,- | |
69,-

41,-




| | | | |
| --- | --- | --- | --- |
| | | 39,- | |
| | | | |
| --- | --- | --- | --- |
| | | 39,- | |
| | | | |
| --- | --- | --- | --- |
| | | 39,- | |
| | | | |
| --- | --- | --- | --- |
| | | 39,- | |
| | | | |
| --- | --- | --- | --- |
| | | 39,- | |
| | | | |
| --- | --- | --- | --- |
| | | 39,- | |
| | | | |
| --- | --- | --- | --- |
| | | 39,- | |
| | | | |
| --- | --- | --- | --- |
| | | 249,- | |
| | | | |
| --- | --- | --- | --- |
| | | 249,- | |
| | | | |
| --- | --- | --- | --- |
| | | 69,- | |
39,-

23,-




| | | | |
| --- | --- | --- | --- |
| | | 79,- | |
| | | | |
| --- | --- | --- | --- |
| | | 89,- | |
| | | | |
| --- | --- | --- | --- |
| | | 45,- | |
| | | | |
| --- | --- | --- | --- |
| | | 129,- | |
13,-

7,-




59,-

35,-