Produsenter
Nye produkter
FACEBOOK FOR KS
Klarna
KÅRET SOM FAVORITTBUTIKK I 2014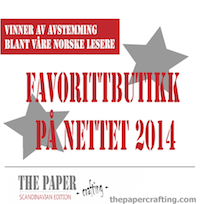 TUSEN TAKK TIL ALLE SOM 
STEMTE PÅ OSS :-)
Nyhetsbrev
Takk! Du vil motta en e-post så snart produktet er på lager!
En ukjent feil har oppstått. Klikk her for å prøve igjen!
JUDIKINS - AMAZING GLAZE - 30ml (GH39600250)

Grovkornet embossingpulver.

JUDIKINS-Embossing Powder
Embossing Powderbecause sometimes, your creation needs that extra special something! What a beautiful way to add color, dimension and sparkle to anything you make with stamping. Clear thick embossing powder with clear glitter that hints of color. Sparkle color changes with added heat. It covers using clear embossing ink with embossing powder and using pigment inks beneath the clear embossing powder, should be layered on dark color paper or contrasting colored pigment ink for best effect. This package contains one 2 ounce/59g jar. (Embossing ink and pigment inks sold separately).
Extensive collection of embossing powders includes metallic, opaque, semi-gloss, translucent, twinkle, psychedelic, iridescent, rustique and even glow-in-the-dark! The metallic, opaque and semi-gloss embossing powders add elegance to your stamped work, creating accents on most heat-resistant surfaces. The glitter in the Extreme Peacock melts at a temperature that is close to the melting point of embossing powder. It forms a film that floats over the surface and evaporates as you heat it. The floating layer gets very thin and begins to get interference colors from it making it look like butterfly wings or an oil film on water. As you heat it, the color changes from red and progresses through the rainbow to a deep blue, hence the name Peacock. When you stop heating, it stays that color giving you complete control over how it looks.
Kommentarer