Produsenter
FACEBOOK FOR KS
Klarna
KÅRET SOM FAVORITTBUTIKK I 2014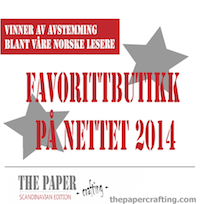 TUSEN TAKK TIL ALLE SOM 
STEMTE PÅ OSS :-)
Nyhetsbrev
Twitter
JUDIKINS - DIAMOND GLAZE - 2 OZ (60ML)
Er en 3-dimensjonal som tørker til en klar og blank medium og er vannbasert.
Fester perler, glitter og er egnet til vellum. Du kan fint blande med vannfarger eller andre vannbaserte inks. Du får en flott effekt med å tilføre shimmer eller glitter i limet.
Brukes på detaljer eller hele flater for å få 3-dimensjonal effekt.
Brukes bl.a på stemplede motiver, klistremerker, bilder og die cuts.
Du kan også lage pynt med den, se Veiledning - Diamond Glaze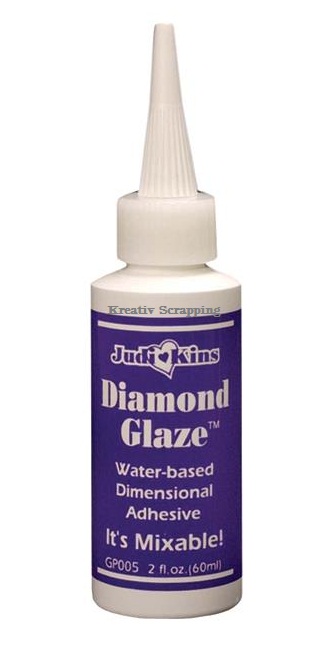 A dimensional adhesive that dries to a clear, glass-like finish. It securely holds vellum, glass beads, glitter and many other mediums. Diamond Glaze is also mixable with dye-based inks, watercolors, pearlescent pigments and more.

JUDIKINS-Diamond Glaze Dimensional Adhesive.
Use this adhesive directly over artwork for a raised glass-like finish. Thin it with water for a lacquer-like finish. It's mixable so you can create your own colors by adding a small amount of dye ink. Perfect for gluing glitter; beads; glass; plastic and vellum to paper.
This package contains one 2 fluid ounce bottle with precision tip.
Kommentarer
| | | | |
| --- | --- | --- | --- |
| | | 69,- | |
39,-

23,-




| | | | |
| --- | --- | --- | --- |
| | | 139,- | |
69,-

41,-




29,-

17,-




79,-

47,-




49,-

29,-




79,-

47,-




109,-

65,-




| | | | |
| --- | --- | --- | --- |
| | | 99,- | |
| | | | |
| --- | --- | --- | --- |
| | | 59,- | |
| | | | |
| --- | --- | --- | --- |
| | | 59,- | |
139,-

83,-




89,-

53,-




| | | | |
| --- | --- | --- | --- |
| | | 59,- | |
| | | | |
| --- | --- | --- | --- |
| | | 59,- | |
| | | | |
| --- | --- | --- | --- |
| | | 139,- | |
| | | | |
| --- | --- | --- | --- |
| | | 35,- | |
| | | | |
| --- | --- | --- | --- |
| | | 25,- | |
| | | | |
| --- | --- | --- | --- |
| | | 49,- | |
| | | | |
| --- | --- | --- | --- |
| | | 25,- | |
| | | | |
| --- | --- | --- | --- |
| | | 79,- | |
| | | | |
| --- | --- | --- | --- |
| | | 19,- | |
15,-

8,-




| | | | |
| --- | --- | --- | --- |
| | | 9,- | |
239,-

143,-




| | | | |
| --- | --- | --- | --- |
| | | 13,- | |
| | | | |
| --- | --- | --- | --- |
| | | 13,- | |
| | | | |
| --- | --- | --- | --- |
| | | 59,- | |
| | | | |
| --- | --- | --- | --- |
| | | 13,- | |
199,-

100,-




49,-

29,-




16,-

8,-




16,-

8,-




| | | | |
| --- | --- | --- | --- |
| | | 69,- | |
129,-

65,-




| | | | |
| --- | --- | --- | --- |
| | | 119,- | |
77,-

69,-




77,-

69,-




77,-

69,-




77,-

69,-




77,-

69,-




77,-

69,-




69,-

41,-




| | | | |
| --- | --- | --- | --- |
| | | 25,- | |
| | | | |
| --- | --- | --- | --- |
| | | 25,- | |
| | | | |
| --- | --- | --- | --- |
| | | 39,- | |
77,-

69,-




77,-

69,-




| | | | |
| --- | --- | --- | --- |
| | | 189,- | |
69,-

41,-




| | | | |
| --- | --- | --- | --- |
| | | 319,- | |
229,-

137,-




129,-

77,-




115,-

69,-




189,-

113,-




115,-

69,-




115,-

69,-




| | | | |
| --- | --- | --- | --- |
| | | 29,- | |
| | | | |
| --- | --- | --- | --- |
| | | 29,- | |
29,-

17,-




29,-

17,-




299,-

179,-




79,-

47,-




| | | | |
| --- | --- | --- | --- |
| | | 29,- | |
| | | | |
| --- | --- | --- | --- |
| | | 19,- | |
169,-

101,-




75,-

45,-




329,-

197,-




89,-

53,-




199,-

119,-




115,-

69,-




| | | | |
| --- | --- | --- | --- |
| | | 49,- | |
89,-

53,-




109,-

65,-




109,-

65,-




99,-

59,-




29,-

17,-




29,-

17,-




29,-

17,-




29,-

17,-




49,-

29,-




129,-

77,-




| | | | |
| --- | --- | --- | --- |
| | | 149,- | |
69,-

41,-




| | | | |
| --- | --- | --- | --- |
| | | 29,- | |
| | | | |
| --- | --- | --- | --- |
| | | 59,- | |