Produsenter
FACEBOOK FOR KS
Klarna
KÅRET SOM FAVORITTBUTIKK I 2014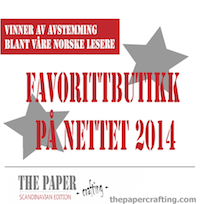 TUSEN TAKK TIL ALLE SOM 
STEMTE PÅ OSS :-)
Nyhetsbrev
Twitter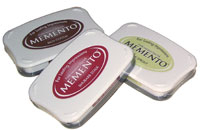 Takk! Du vil motta en e-post så snart produktet er på lager!
En ukjent feil har oppstått. Klikk her for å prøve igjen!
TSUKINEKO: DYE INK - MEMENTO - ALLE FARGER
Memento er en stempelpute som tørker hurtig på de fleste overflater.
Går til alle typer papir. Puten er syrefri, og egner seg meget godt når stemplet motiv skal fargelegges med Copic Skech Markers. Puten måler 96x67mm.

BESTILLINGSVARER: Oversikt over alle farger i serien. ca 1 til 3 ukers leveringstid.
Legg i handlekurven antall du ønsker og skriv i merknadsfeltet hvilke farge du ønsker
ME-000-100
Memento - Dandelion



ME-000-103
Memento - Cantaloupe



ME-000-200
Memento - Tangelo



ME-000-300
Memento - Lady Bug



ME-000-301
Memento - Rhubarb Stalk



ME-000-400
Memento - Rose Bud



ME-000-404
Memento - Angel Pink



ME-000-500
Memento - Grape Jelly



ME-000-501
Memento - Lilac Posies



ME-000-504
Memento - Lulu Lavender



ME-000-506
Memento - Sweet Plum



ME-000-600
Memento - Danube Blue



ME-000-601
Memento - Bahama Blue



ME-000-604
Memento - Summer Sky



ME-000-608
Memento - Paris Dusk



ME-000-701
Memento - Cottage Ivy



ME-000-703
Memento - Pear Tart



ME-000-704
Memento - New Sprout



ME-000-707
Memento - Bamboo Leaves


TSUKINEKO-Memento Dye-Ink Ink Pad.
This collection of paper craft ink pads feature the highest quality dye-ink found in today's market! This water-based; fade-resistant and acid free ink dries on all paper surfaces including coated and textured papers and dries quickly on most.
These innovative pads result in finer impressions and exceptionally even ink coverage-perfect for finely detailed and solid images.

This package contains one 2-3/4x3-7/8x5/8in stamp pad with a removable lid with a uniquely designed case that allows for steady stacking and a color-coded labeled side that allows for quick and easy identification even when stacked.
Kommentarer