Produsenter
FACEBOOK FOR KS
Klarna
KÅRET SOM FAVORITTBUTIKK I 2014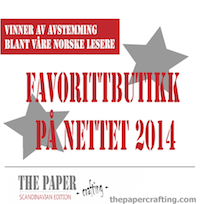 TUSEN TAKK TIL ALLE SOM 
STEMTE PÅ OSS :-)
Nyhetsbrev
Twitter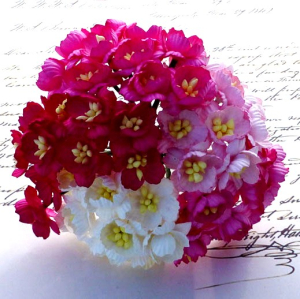 WILD ORCHID - CHERRY BLOSSOMS 244 - MIXED PINK - 50 STK
Pakke med NYDELIGE MULBERRY blomster fra Wild Orchid.
Blomstene måler ca 25MM i diameter og det er ca 50 stk i pakken.

Mixed pink cherry blossom flowers handmade from very fine mulberry paper. Each flower measure approx 25mm across the flower, with a 6cm green stem. Each pack contains 50 flowers.
Kommentarer

WILD ORCHID CRAFTS - WOC
| | | | |
| --- | --- | --- | --- |
| | | 25,- | |
29,-

15,-




29,-

15,-




| | | | |
| --- | --- | --- | --- |
| | | 34,- | |
149,-

89,-




| | | | |
| --- | --- | --- | --- |
| | | 69,- | |
| | | | |
| --- | --- | --- | --- |
| | | 65,- | |
| | | | |
| --- | --- | --- | --- |
| | | 49,- | |
| | | | |
| --- | --- | --- | --- |
| | | 69,- | |
| | | | |
| --- | --- | --- | --- |
| | | 39,- | |
| | | | |
| --- | --- | --- | --- |
| | | 329,- | |
69,-

41,-




| | | | |
| --- | --- | --- | --- |
| | | 4,- | |
| | | | |
| --- | --- | --- | --- |
| | | 13,- | |
| | | | |
| --- | --- | --- | --- |
| | | 45,- | |
| | | | |
| --- | --- | --- | --- |
| | | 45,- | |
| | | | |
| --- | --- | --- | --- |
| | | 45,- | |
| | | | |
| --- | --- | --- | --- |
| | | 45,- | |
| | | | |
| --- | --- | --- | --- |
| | | 13,- | |
| | | | |
| --- | --- | --- | --- |
| | | 13,- | |