Kategorier
Produsenter
Nye produkter
FACEBOOK FOR KS
Klarna
KÅRET SOM FAVORITTBUTIKK I 2014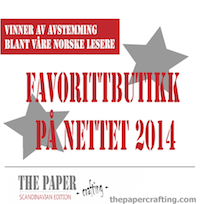 TUSEN TAKK TIL ALLE SOM 
STEMTE PÅ OSS :-)
Nyhetsbrev
LAWN FAWN STAMPS & DIES
what are your stamps made out of?
Our stamps are made in the USA from the finest photopolymer available. We did extensive research to find the best product out there, and it shows! These stamps carry ink like a dream, will not tear, and have a nice cushion when stamping. You're going to love them!
why not red rubber?
Now, we would like to address something we often hear: "clear stamps don't stamp as well as red rubber." The reason is this: not all clear stamps are created equally. There are many companies out there carrying stamps that are made of silicone or vinyl. These materials weren't designed to carry ink, and therefore the ink beads up. Photopolymer is meant to carry ink. It has the qualities necessary to do so. Lawn Fawn stamps are always made from clear photopolymer (never silicone or vinyl!) and are made in the USA too. So not only are you getting the best quality out there, you are also supporting industry in the United States. It's a win win for everyone!

do i need to clean my stamps?
Photopolymer stamps will appear to loose their "cling" after time. This is because lint and dust has collected on your stamps. We recommend washing your stamps every once in a while in a mild soap and water bath. Rinse them off, let them dry and they will be like new!
A note: some inks might stain your stamps. Don't worry! They still work well and no one will ever know!
Viser 1 til 10 (av 10 produkter)