Produsenter
Nye produkter
FACEBOOK FOR KS
Klarna
KÅRET SOM FAVORITTBUTIKK I 2014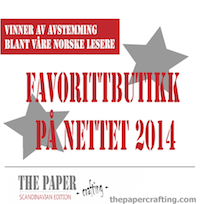 TUSEN TAKK TIL ALLE SOM 
STEMTE PÅ OSS :-)
Nyhetsbrev
Takk! Du vil motta en e-post så snart produktet er på lager!
En ukjent feil har oppstått. Klikk her for å prøve igjen!
ALEENES - TACKY GLUE - FAST GRAB ALWAYS READY - 4 oz - 118ml
Specifically formulated to grab hard-to-hold items on contact. Allows time for perfect placement and the extra thick formula won't run. Dries clear and flexible.
ALEENE'S-FAST GRAB TACKY GLUE - ALWAYS READY
Experience a fast grabbing glue that holds items together on contact! An all-purpose glue for crafts, hobbies and household repairs. Specially formulated to grab hard-to-hold items. Will not run. This package contains one 4oz bottle of fast grab tacky glue.

Kommentarer
| | | | |
| --- | --- | --- | --- |
| | | 49,- | |
| | | | |
| --- | --- | --- | --- |
| | | 99,- | |
| | | | |
| --- | --- | --- | --- |
| | | 69,- | |
| | | | |
| --- | --- | --- | --- |
| | | 120,- | |
| | | | |
| --- | --- | --- | --- |
| | | 59,- | |
| | | | |
| --- | --- | --- | --- |
| | | 59,- | |
| | | | |
| --- | --- | --- | --- |
| | | 45,- | |
| | | | |
| --- | --- | --- | --- |
| | | 20,- | |
| | | | |
| --- | --- | --- | --- |
| | | 20,- | |
| | | | |
| --- | --- | --- | --- |
| | | 59,- | |
| | | | |
| --- | --- | --- | --- |
| | | 39,- | |
| | | | |
| --- | --- | --- | --- |
| | | 69,- | |
| | | | |
| --- | --- | --- | --- |
| | | 69,- | |
| | | | |
| --- | --- | --- | --- |
| | | 39,- | |
| | | | |
| --- | --- | --- | --- |
| | | 59,- | |
| | | | |
| --- | --- | --- | --- |
| | | 59,- | |
| | | | |
| --- | --- | --- | --- |
| | | 59,- | |
| | | | |
| --- | --- | --- | --- |
| | | 59,- | |
| | | | |
| --- | --- | --- | --- |
| | | 69,- | |